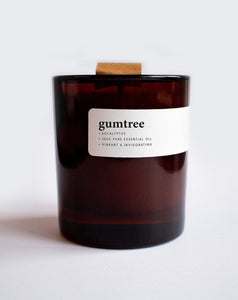 Keynvor's first essential oil candle. This is the unmistakable smell of dense coastal rainforest. A lush‭ and ‬energising scent of eucalyptus originating from the national parks of eastern Australia.
Notes
100% Natural Eucalyptus Essential Oil.
Performance
The fragrance will scent a mid-sized room for approximately 33 hours.
Keynvor medium amber candles are mixed and hand-poured by the sea. They use recycled labels and unique eco lids to lock in the fragrance, then each candle is finished with eco wrapping paper, creating the perfect gift for someone or yourself.
The important bit! All Keynvor candles are clean burning made with 100% soy wax, fine fragrance oils, and cotton wicks. The fragrances we use are cruelty-free and paraben-free.